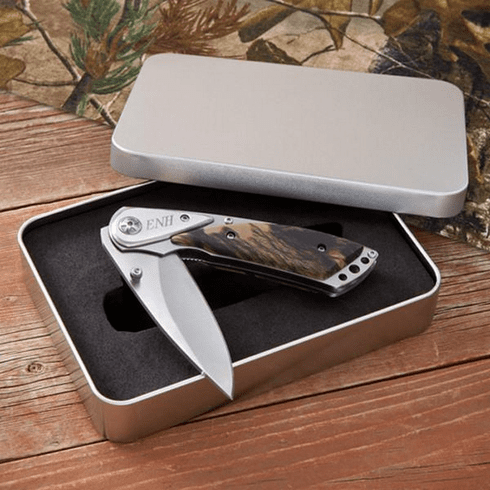 Deluxe Camouflage Lock Back Knife
The great outdoors can be a challenging place, as you are all too familiar with when your husband, son or father comes home from a camping, fishing or hunting trip. However, equipped with the best tools, the man on your gift list can conquer anything nature throws his way. That's why the lock back knife is the go-to gift for your special outdoorsman. Not to mention, the camouflage design will help your man blend seamlessly into his surroundings. The pocket knife features the recipient's initials, making it the perfect gift to celebrate a special occasion like his birthday, anniversary or Father's Day. Give him a gift that he wouldn't be caught without when he's away from home. He'll love the personalized camouflage lock back pocket knife.
Item Specifications:
Knife measures 5" x 1 1/2" x 3/4" closed and 9" fully extended
Box measures 6 1/4" x 3 1/2" x 1 1/4"
Personalized with 3 initials
Please Note:This item is NOT returnable.
Availability: This item takes approximately 10-14 business days to leave the warehouse plus transit time.